Corporate Sandwich Platter
$11.97 per person
Minimum of 10 Guests
Served with Home Made Kettle Chips and French Onion Dip
Pick 3 Sandwich Varieties:
Cattle Drive
Sliced Beef, Provolone Cheese and Caramelized Onions on Baguette
Loosely Cuban
Sliced Smoked Ham and Pork Loin, with Swiss Cheese, Pickles and California Gold Sauce,
Served on Baguette
Turkey Point
Smoked Turkey with Brie and Brambleberry Relish
Boss Hog
Slow Smoked Ham, Caramelized Onions and Swiss Cheese with Honey Mustard
South River Steak
Flank Steak with Arugula and Horseradish
Cream Sauce
Pitmaster
Combination of Pit Beef & Pit Ham, Thick Cut Bacon, Sharp Cheddar, Fried Onion ring, Smoky Mayonnaise, Baguette
Easy Caprese
Smoked Turkey, Heirloom Tomatoes, Fresh Mozzarella and Basil Leaves, Drizzled with a Balsamic Reduction on Ciabatta Bread
(Available as a vegetarian option)
Harwood Ham
Sliced Pit Ham, Sliced Granny Smith Apple, Sharp Cheddar and Dijon Mustard
South West Shrimp Wrap
Grilled Chipotle Shrimp, Pico de Gallo, Romaine, Roasted corn, Avocado Aioli
Smokehouse Turkey
Smoked Turkey Breast, Smoked Gouda, Crispy Bacon, Grilled Red Onions, Sun Dried Tomatoes, Sweet Chili Aioli on Ciabatta
The Situation (Cold Cut)
Italian Sliced Meats, Provolone, Lettuce, Tomato, Hot Red Pepper Spread, Oil & Vinegar, on Baguette
Gracefully Garden
Carrots, Bell Peppers, Onions, and Bean Sprouts with a Dijon Yogurt Spread, Wrapped in a Whole-Wheat Tortilla
Vegan Delight
Sliced Avocado, Black Beans and Mixed Veggies with a Tomato Salsa, Wrapped in a Whole-Wheat Tortilla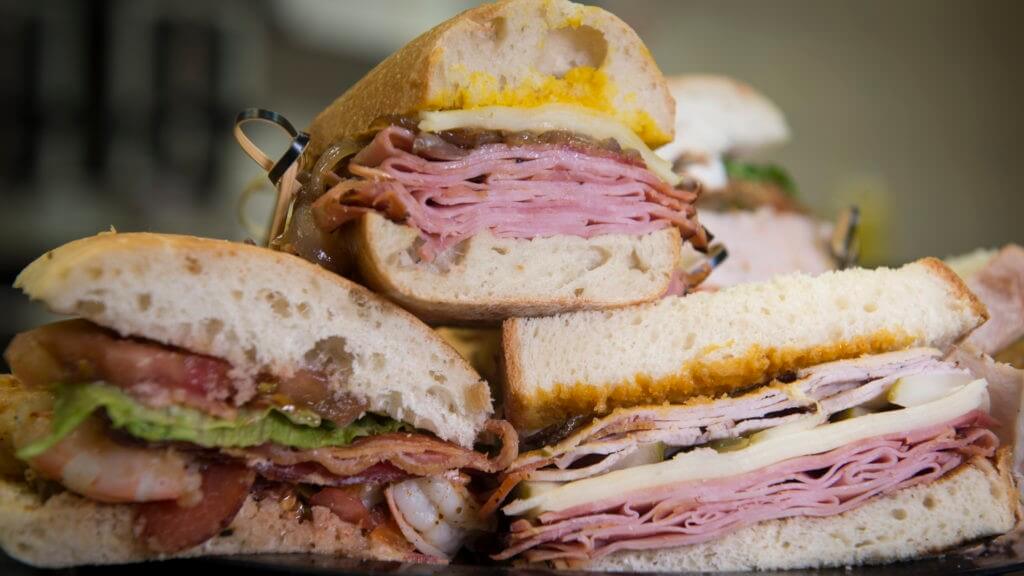 Additional Side Items
$2.10 per person
Home Style Potato Salad
Fresh Vegetable Pasta Salad
Western Style Baked Beans
Crisp Creamy Cole Slaw
Fresh Seasonal Fruit Salad
Tossed Caesar Salad
Garden Salad with Choice of Dressing
Desserts
Assorted Cookies and Brownies
$1.85 per person
Assorted Gourmet Dessert Bars
$2.15 per person
Beverages
Assorted Pepsi Sodas and/or Bottled Waters
$1.89 per person
Unsweet Iced Tea, Sweet Iced Tea or Lemonade
$8.50 per gallon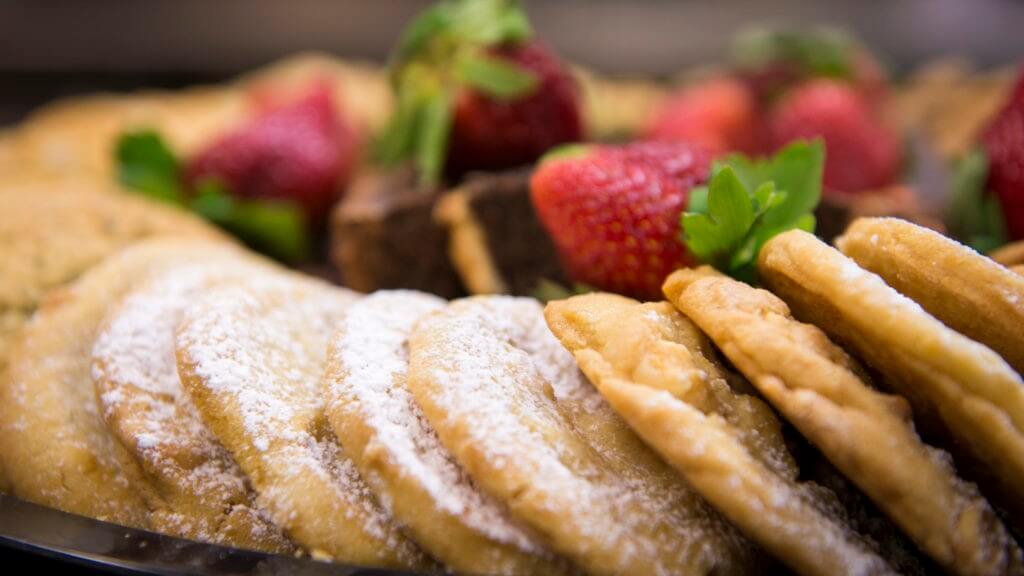 Far East Rice Bowls
A plethora of options for an Asian style cuisine
$18.65 per person

Minimum of 10 Guests
Get Started on the Bottom:
Coconut Jasmine Rice
Fresh Mixed Greens
Layer in a Delicious Protein:
(Add a 2nd Protein for $1/pp)
Sliced Chicken Breast
Marinated Flank Steak
Smoked Turkey
Pulled Pork
Top It Your Way:
Caramelized Onions
Diced Tomatoes
Roasted Red Peppers
Blanched Broccoli
Shredded Carrots
Crumbled Feta Cheese
Crushed Bacon
Chopped Peanuts
Sliced Scallions
Premium Taco Bar
Three protein variety with traditional sides
$22.95 per person

Minimum of 10 Guests
Cilantro Lime Pork
Ground Taco Beef
Fajita Chicken Breasts
Tortilla Chips, Corn Taco Shells, Flour Tortillas
Mango Salad with Romaine Lettuce
Warm Queso, Sautéed Peppers and
Onions, Chopped Lettuce, Diced
Tomato, Shredded Cheese, Pickled
Jalapenos, Salsa, Sour Cream, and
Guacamole
Mexican Rice
Black Beans
We offer Pickup, Delivery, and Full-Service catering for office and corporate events. Board meetings, employee luncheons, and company picnics made easy. Contact us to learn more.
Corporate Menus
April 4, 2017